China's Friendly Skies: Psycho Fake Hijackers and Teenie Terrorist Ring Tones
I ran across these while searching for some other data this morning and just had to share.
Last Friday, September 29, 2006, a Chinese Airbus A340 made an emergency landing at the Tianhe Airport in Wuhan, capital of central China's Hubei Province, interrupting its flight from Shanghai to Chengdu. A passenger, one Mr. Zeng, had threatened to hijack and bomb the plane during the flight. After the plane's emergency landing in Wuhan, authorities found no bombs or other banned objects. Zeng, "who is said to be suffering from psychological problems, was sent to a local hospital for a medical check-up."
The China Daily blurb on this incident was presented as a photo gallery feature, not a bona fide news item, interestingly enough.
Here, police load Zeng into a car. No handcuffs, but check out the wrist grip the fellow in the middle has on Zeng: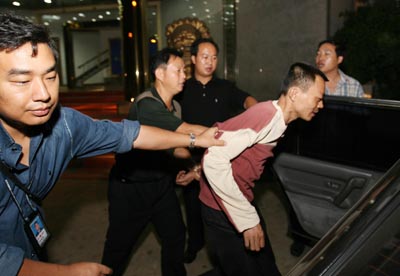 Photo: China Daily
As the China Daily caption says of this one, "Suspicious Zeng seems rather agitated when probed by aviation police in Wuhan, central China's Hubei Province Friday, September 29, 2006." I have nothing to add to that…except to say that I think Ge You could easily play Zeng in the movie version, if it ever comes out: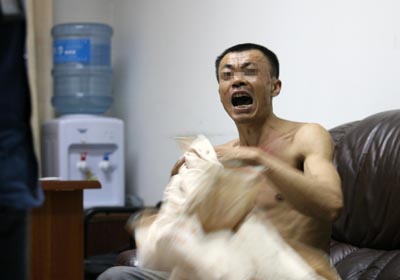 Photo: China Daily
Here, the "aviation police" are said to be escorting Zeng out for evaluation at a mental hospital. Three questions: (1) Why are Zeng's eyes blurred out in this photo and not the previous ones?; (2) What company or team logo is that on the shirt he's wearing, and will they have to pay him royalties for this?; and (3) Is Zeng smiling now and not agitated because the police have let him have a cigarette (see his left hand)?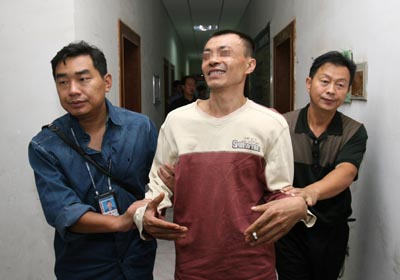 Photo: China Daily
But if you think that's bizarre, check out this one, also from China Daily:
Strange ring tone gets girl into hot water
A 15-year-old Singaporean girl was almost refused the right to board a plane at Guangzhou Baiyun International Airport on Monday due to her phone's rather bizarre ring tone.
Security guards in the airport got a start when they heard a voice shouting, "I am a terrorist."
The "voice" was soon found to be coming from the young Singaporean woman's mobile phone.
The girl was immediately required to delete the strange ring tone. She was allowed to board after getting a severe telling off from the airport security officials.
That is nearly as dumb as what this guy did.
October 2006