Heroic Grace: The Chinese Martial Arts Film
Seattle.
What's the first thing you think of when I say "Seattle"?
Rain? Coffee? Microsoft? More Rain?
Well, for us locals, one of the best-kept Seattle secrets is our annual "Seattle International Film Festival". For a few weeks each year, the streets of Seattle turn into our own Cannes Film Festival, a Pacific Northwest response to Sundance.
This year brought a special treat to film-loving Sinophiles: a traveling series of classic Hong Kong Kung Fu films presented under the heading "Heroic Grace: The Chinese Martial Arts Film". If you think you know martial arts films already, you may be in for a surprise. This collection holds no Bruce Lee, no Jet Li, no Jackie Chan.
Here's how Cheng-Sim Lim of the UCLA Film and Television Archive describes the festival series:
The Chinese martial arts film burst into American consciousness in the social ferment of the 1970s with Bruce Lee, and propelled into the mainstream with CROUCHING TIGER, HIDDEN DRAGON (2000). Moves dreamt up by Hong Kong masters now show up regularly on video games and action movies–Korean, French or Hollywood alike. Yet for all its crossover success, the unique origins, history and outstanding artistry of the genre remain relatively unknown.

Born in Shanghai in the 1920s from the ashes of China's imperial decline, the martial arts cinema blended, from its earliest, silent-era form, modernity (the love of speed, the use of special-effects technology, frequent adaptations from comic books and serialized novels) and folkloric tradition (Chinese opera and acrobatics).

As the gangster picture was to Warner Brothers, so was the martial arts movie to the Shaw Brothers. This program, a selection of Shaw martial arts classics from 1966-1980 [Ed. plus a predecessor from 1930], sheds light on the studio's creative and box-office heyday when heroes and heroines somersaulted rather than walked the earth, villains were legendary, humbleness and loyalty were prized among all virtues, agility of mind and body was exalted, pursuits of person or goal were almost always obsessive, and fighting became a wondrously percussive dance.

The Shaw Brothers counted among its luminaries some of the genre's most innovative directors. For the past 20 years, their achievements have largely gone unheralded beyond circles of specialists and fans because their works, like other Shaw films, were kept out of circulation. What with faded color, panning and scanning, and atrocious dubbing, those prints and videotapes that did exist gave only the faintest impression of the film's original impact. This program remedies the situation by presenting newly preserved 35mm and archival prints, all in their original language with English subtitles.
So you weren't able to make it to Seattle this year?
Tough luck. In case you want to try and find copies of these films for your own collection, here is the lineup, with descriptions and images courtesy of The Seattle International Film Festival.
---
Swordswoman of Huangjiang (1930)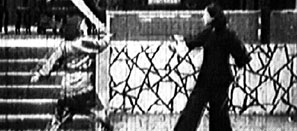 A vastly entertaining silent forerunner to the sword-and-sorcery films which would drive the Hong Kong film industry to new heights some thirty years later, this effervescent period piece introduces us to Fang Yuquin, who roams the countryside with her "martial brother" Yue Jianqui, dispensing aid and protection to people in need. Their exploits lead them to a foreboding temple, where the way of the jiang hu (underworld) evoked in the film's title holds sway over all who enter.

---
Come Drink With Me (1966)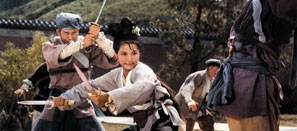 Golden Swallow confronts Jade-Faced Tiger and his gang. Hiding in the shadows, Fan Dabei (Yue Hua) rescues her when she's hit by a poisonous dart, and cares for her in his little shack by a waterfall. Romance is in the air, yet these two still have work to do. In his martial arts directorial debut, King Hu joins poetics to sophisticated action choreography, ushering in the "new school" swordplay and the martial arts film as a major art form.

---
The One-Armed Swordsman (1967)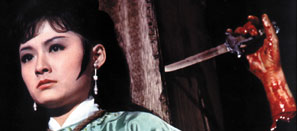 Zhang Che's riveting revenge thriller is often identified as the key transitional film between the old school wuxia swordplay picture and what we now think of as the kung fu movie. "The One-Armed Swordsman" created a revolution in the genre with its innovative emphasis on match-ups among various fighting styles and the warrior's training process. Even in its visual details the film announces the arrival of a new kind of hero.

---
Golden Swallow (1968)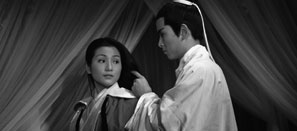 A nominal sequel to King Hu's "Come Drink With Me," "Golden Swallow" takes its title from the heroine of Hu's film but, in line with director Zhang Che's proclivity for male-centered stories, reorients the plot around a tormented swordsman. Zhang emphasizes rough vigor–not to mention the grislier aspects of violence, including bodily maiming and psychological trauma.

---
Vengeance! (1970)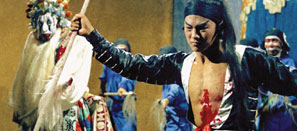 Zhang combines expressive widescreen camera angles, dynamic editing and breathtaking use of slow motion to forge a stylized depiction of mayhem unrivalled outside Peckinpah's valedictory Westerns. The film is awash in blood, bright red pools of it drawn mainly by daggers and hatchets, although firearms do put in a brief appearance.

---
Intimate Confessions of a Chinese Courtesan (1972)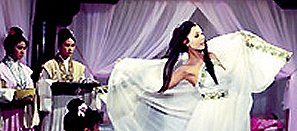 Imagine relocating a martial arts school–site of many a scene of tortuous training of would-be warriors–to a brothel, and transposing the martial arts master to the brothel's madam and the martial arts disciple to a prostitute (who must be forcibly drilled in the sexual arts of servicing men). Now imagine that the madam is a lesbian who abducts virgins to work in her brothel. Oh my.
---
Blood Brothers (1973)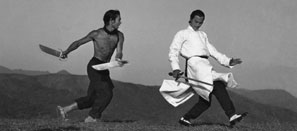 This widescreen epic of love, loyalty and betrayal is based on actual events surrounding the assassination of a general in the waning years of the Qing Dynasty (late 19th century). This retelling finds David Jiang and newcomer Chen Guandai as bandit brothers who befriend the mercenary warrior Di Long after trying to rob him. Eventually, the threesomes' devotion grows into jealousy, treachery and revenge that prefigures his assistant director John Woo's 1990 "Bullet in the Head."

---
The 36th Chamber of Shaolin (1978)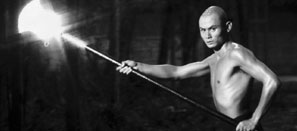 "The 36th Chamber of Shaolin" is the most popular screen version of one of the key foundation myths of the kung fu subgenre: the story of the dissemination of the top-secret combat techniques developed at the Shaolin Temple. A newly minted monk, now known as San De ("Three Virtues"), soon demonstrates the truth of the adage that "the mind is also a muscle"; he invents a new weapon, the three-section staff, to counter a rival's "butterfly twin swords" style.

---
Return To the 36th Chamber (1980)
A freewheeling follow-up to the original, immensely popular "The 36th Chamber" (1978) this quasi-sequel applies a light touch to the "warrior-in-training" subgenre and ably showcases director Lau Kar-leung's considerable talent for kung fu comedy. Along with the slapstick kung fu films of Sammo Hung and Jackie Chan, "Return to the 36th Chamber" helped usher in the vogue for martial arts comedy in 1980s Hong Kong cinema.

---
You may still have a chance to see the series … if you'll be in New York City, Houston, or Portland, Oregon in the next several weeks. The series - including additional films not technically in the traveling series - is now playing through July 10th, 2003 in New York City at The Walter Reade Theatre, in conjunction with The Film Society of Lincoln Center.
After that, two stops remain on the series' multi-city tour of the USA: Houston, TX (July 11-August 9, 2003), and Portland, OR (July 18-August 9, 2003).
"Heroic Grace: The Chinese Martial Arts Film" touring program has been selected and organized by the UCLA Film and Television Archive, and has been made possible with Presenting Sponsorship from the Hong Kong Economic and Trade Office in San Francisco, and additional sponsorship from Cathay Pacific Airways. Licensed by Celestial Pictures Ltd. (a company incorporated in Hong Kong SAR). All rights reserved.
July 2003