Chinese Language Learning | News from China | Sino Culture and History | Quality China Products
Learning Chinese? See Our List of Free
Mandarin Learning Sites

A Fact Book of China

Picture Yourself in a Revolutionary Painting!
Become a socialist hero…in just 4 easy steps!!

The folks over at Maopost.com have come up a unique service that puts you (alone or with friends, family members, whoever) into a custom-painted Chinese revolutionary or propaganda poster:
Pick a poster from their selection and choose your painting's format: 30×20in or 40×26in (75×50cm or 100×65cm).
Send them snapshots of yourself (or others).
They create a mock-up at no cost in order to give you a preview of the final result, and they also include a quotation for the painting. If you agree, the painter gets down to work. Payment is effected through PayPal.
Two weeks later your painting is ready. It is carefully packaged inside a cardboard tube and sent to you by FedEx.
In case that was too hard to follow, here's a visual: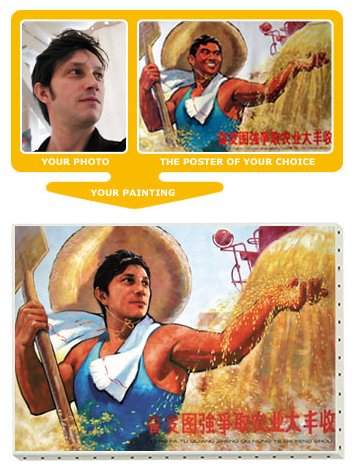 The price for this service isn't cheap, nor should it be: the privilege of being immortalized in proletariat art really should be reserved just for the bourgeoisie elite (or those who aspire to join their ranks), don't you think? ;-)
Me, I'm thinking of having my daughters likenesses brought into this one, the slogan of which translates to Do good environmental sanitation work, and keep the city looking neat and clean: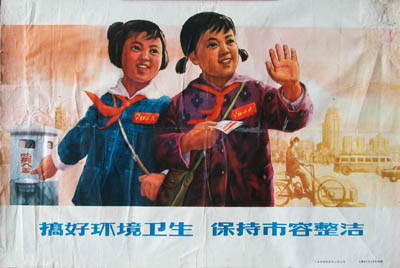 We've been emphasizing to the girls the importance of picking up after themselves, and I think that hanging this in their room will make a perfect reinforcement….
Head on over to Maopost.com to check out this service and more.
May 2006
My 2006 'Travel in China' Blog
|
Privacy Policy
© 1998-2016 by Mark A. Baker. All rights reserved.
ISSN 1544-8088